In Suzanne Collins' post-apocalyptic young adult novel The Hunger Games, 16-year-old Katniss Everdeen finds herself in a televised fight to the death with other teenagers. If she's to survive, she'll need some luck. But when it came to making sure the $75 million Hollywood adaptation would be a success, Lionsgate knew luck wasn't something they could rely on. Instead, they turned to social media to help turn The Hunger Games into The Next Big Thing.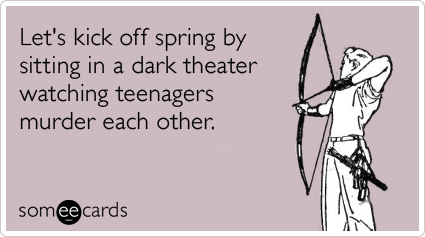 Not the First
The Hunger Games certainly isn't the first film to enlist social media.
In fact, "The Blair Witch Project" caused a stir in 1999 when marketers of the independent film used its website and forums across the internet to spread fake newspaper clippings and police photos. Twelve years later, social media was being credited with reviving the Muppets franchise. And while Christopher Nolan's "The Dark Knight Rises" doesn't open in theaters until July, social media marketing efforts began a full year in advance.
"May the Odd's Be Ever in Your Favor"
Of course, Lionsgate also used "old-media tricks" to promote The Hunger Games as well – giving away posters, securing magazine cover stories and advertising on billboards. But social media is the marketing campaign's centerpiece. Fully utilizing the book series' already large fan base, the social media campaign for The Hunger Games has been an undeniable success. For instance, Facebook updates on the movie's official page routinely gain 20,000-plus Likes and thousands of comments and shares.
We won't begin to know how much money The Hunger Games rakes in until it officially opens on March 23 (early estimates are calling for a $90 million opening weekend, which I suspect is conservative), but the film's social media machine can already claim a victory.
Pre-sale ticket purchases broke Fandango.com's record for sales on the first day tickets become available. According to Fandango, hundreds of opening-weekend showings sold out the first day tickets were available – including midnight showings.
So what are the ways the 21-person Lionsgate team utilized social media? Let's count.
Facebook
1. The official Facebook movie page has over 3 million Likes and acts as a perfect starting point for the film's social media campaign.
2. Facebook "exclusive" updates – Nothing builds community like releasing the first clip of one of the year's most anticipated movies "exclusively" for Facebook fans. In reality, anyone can go to the page's Wall – or just go to YouTube – and see the clip too.
3. "District Identification Pass" – These launched with the social campaign, and more than 800,000 have been created. The idea here is that you'll be sorted into one of the 12 districts of Panem.
4. iOS game – As a tab on the Facebook page, fans can download the demo while they wait for the game to be released.
5. "Fight Hunger" – It may be a movie about teenagers being forced to murder each other, but Lionsgate has teamed with World Food Programme and Feeding America to fight hunger worldwide and domestically. This is yet another Facebook tab, and you can donate through credit card, PayPal or text messaging. There's even a 19-second video of star Jennifer Lawrence asking for support and a quiz to enter to win a signed movie poster.
6. Soundtrack – This tab lets fans listen to some of the songs from the film's soundtrack, with a link to preorder the album on iTunes.
7. Mall Tour Events – The events have passed, but each city that the cast stopped in to sign autographs and sit down for a Q&A had its own event.
8. Mall Tour Photos – A huge photo album with images from the events.
9. Opening Day Facebook Event – This Facebook Event already has 25,000 attendees.
10. "Read the Book" – Another Facebook tab in which fans can read the first two chapters of the book digitally.
11. Fan of the Week – One lucky Facebook user is picked and interviewed each week.
12. "Who Are the Tributes?" – Click on a character's picture and learn more about them.
13. A Note from Suzanne Collins – Fans can read a note posted by the author of the series in the "Notes" section.
14. The Capitol Facebook page – This is basically another page where images and trailers from the film are posted. It has over 119,000 Likes. Each update is fashioned as if it's directly from the Capitol, which controls the country of Panem in the story.
15. And every "district" from the book's world of Panem has its own page. For instance, Katniss' home district has over 99,000 Likes. There are twelve of these, so we skip ahead.
27. More About District Pages – The top influencer can become "mayor" and unlock more news and prizes.
28. This Facebook adventure game is set to be released the same day as film.
Google Plus
29. As one of the more successful Google+ pages, The Hunger Games page has been added to over 787,000 circles.
30. The Google+ page is verified so it's easy to find among fake fan-made profiles.
YouTube
31. With over 45,000 subscribers and 18.6 million video views, the film's YouTube channel is a complete success.
32. The videos are branded to be from "Capitol TV Productions" and "have been officially sanctioned by the Capitol for the consumption of District citizens."
33. A small photo gallery appears near the bottom of the film's YouTube channel.
34. At the bottom of the channel is the question "Who are you seeing The Hunger Games with?" Users can sign in and add a comment through Facebook, Twitter or YouTube.
35. Meanwhile, an impressive "District Citizen Reel" shares fan-made videos.
Tumblr
36. Lionsgate did an outstanding job of utilizing Tumblr with the "Capitol Couture" fashion blog.
37. The Tumblr content features cover stories, profiles of characters like President Snow and Cinna, fashion guides and more.
38. District Style Challenges – Winners of these contests receive a $750 Nordstrom gift card and have their work featured on the Tumblr.
39. Fan content is even reblogged from other Tumblr blogs in the "Citizen Sighting" section.
Twitter
40. @TheCapitolPN – 48,000 followers
41. @TheHungerGames – 295k followers
42. Fans were asked to tweet to unlock screenings in cities around the US.
43. Lionsgate released puzzle pieces around the internet, and asked fans to put the pieces together via Twitter. It ended up as a trending topic.
Pinterest
44. Surprisingly, there's no official account on Pinterest, but The Hunger Games is everywhere – from fashion to posters to quotes, and everything in between. A couple weeks ago I pinned the artwork below. Within four hours, it had been repinned over 750 times. Weeks later, it was being repinned even more, and now sits at over 1,200 repins.
"The World Will Be Watching"
The Pinterest example is more proof of the passion fans have for the franchise. It's been reported that 1 million tickets have already been pre-sold for the film, and a poll on The Hunger Games Facebook page had 61% of respondents saying they planned to see the movie "more than twice."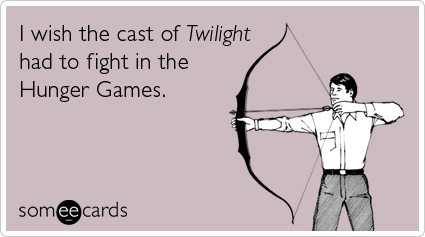 Some of the ideas the marketing team at Lionsgate have created are nothing short of brilliant, evidenced by the amount of fan engagement. Thanks to this social media campaign, the world hasn't just been watching, it's been actively participating.
Did I miss anything? If you were in control of "The Hunger Games" social media campaign, would you have done something differently? Let me know in the comments section.