When you hear people talking about "seismic activity" on the West Coast, what immediately jumps to mind? Los Angeles, rumbling as the San Andreas Fault shifts? John Cusack in 2012, fleeing the mighty wrath of the Pacific Ocean as it gleefully swallows California into its watery maw?*
Here in the Pacific Northwest, mentioning "seismic activity" brings back memories of the 2011 NFL playoffs, and a run that not only remains one of the best plays in Seahawk history, but also as the seismic event by which all other seismic events in the area are measured by.
No, seriously.
Ladies and Gentlemen… Marshawn Lynch and his Beast Quake: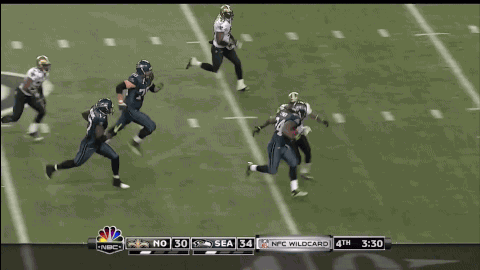 Fans at the game cheered so loudly during and after Lynch's run, they registered on the Richter scale. You know, the same one that measures earthquakes:
"…cheering and jumping [of the fans] shook the ground enough to register as a small seismic event on a nearby seismometer, part of the Pacific Northwest Seismic Network." (source: Discovery.com)
So, alright. We now know what constitutes a "great" play here in Seattle. Cue last Saturday, and what's now being referred to as the KamQuake: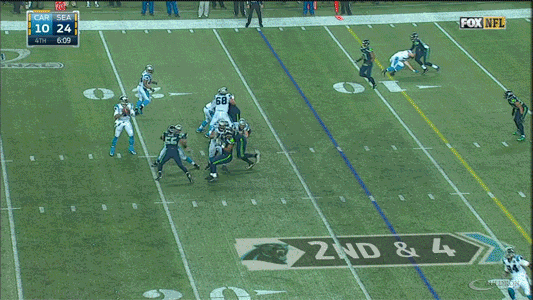 A game-clinching interception and touchdown in the first round of this year's NFC Playoffs set Century Link Field on fire (not literally). The Pacific Northwest Seismic Network was kind enough to compare 2011's record setter with this year's quake: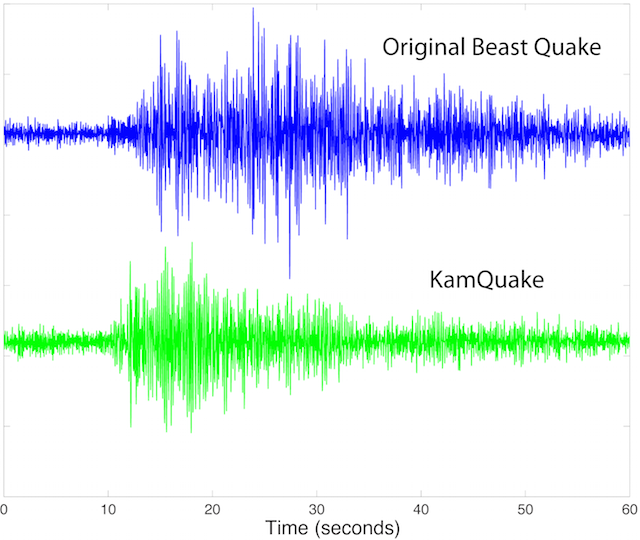 Not quite on par with what we saw during Marshawn's run, but it's still impressive. For the sake of all the drivers on the 99 Viaduct, we better hope we don't have a nailbiter of a win this weekend, or that sucker might come down prematurely. But we digress…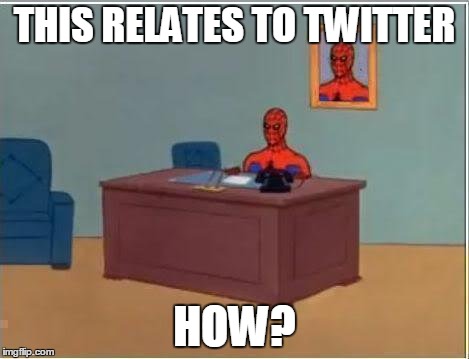 Well, believe it or not, the Seahawks create seismic activity on more than just the Richter scale. Check out mentions of the team on Twitter during the same exact time that the KamQuake shockwaves were reverberating through the ground on Saturday:
The correlation was a striking observation for the social media marketing team here at Portent. We wracked our brains trying to come up with a similar phenomenon in social media, but came up blank.
Helping our clients anticipate and utilize spikes like what we highlighted above is an important part of the social media coaching we do here at Portent. While we can't predict exactly when massive spikes in social chatter will occur – anyone who says they can is either psychic or grossly overestimating their foresight – monitoring and analyzing events like Beast Quake and KamQuake provide us the insight needed to give our clients a leg up in the intensely competitive world of social media.
As you work to boost your organization's social media profile, keep an eye out for these "quakes." Approached properly, they can provide impressive short-term gains in the form of immediate engagement, and long-term gains in the form of followers and platform visibility. And if you need a little extra coaching, we're here to help.
*Those polled at Portent refused to confirm or deny seeing 2012, but a whopping 9/10 agreed it was definitely, maybe, the worst movie of that particular year.